Exclusive Interview:
Bettany Hughes & James Fox on Climate Change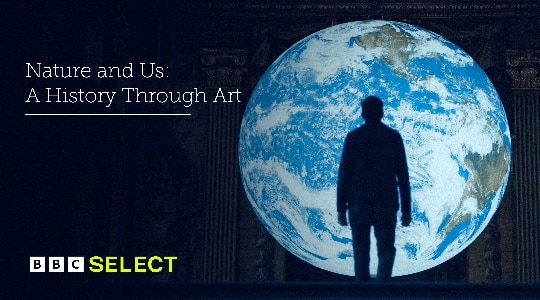 What can art and ancient history teach us about climate change? Historian Bettany Hughes and art history professor, Dr James Fox present two BBC Select original documentaries (History of Mother Earth: Gaia Uncovered & Nature and Us: A History Through Art) that explore our relationship with the planet, through the ages. We interviewed them to discuss what the future of could look like.
Watch History of Mother Earth: Gaia Uncovered & Nature and Us: A History Through Art now on BBC Select via the Apple TV app or Amazon Prime Video Channels.
Bettany Hughes:
'We were discussing environmental issues 2700 years ago'
Humans are very good at doing this we always imagine that we're the first people to have a problem or to think about our problems, so we tend to think you know, this is very much a 21st century issue that people were starting to be aware of in the 20th century and exactly as you say, if you go right the way back you know we're talking 2700 years. The notion of a kinds of interconnectedness with the cosmos and the rest of the universe so Mother Earth is just very clear and she says that she wants to rid yourself of the burden of humanity.
Dr James Fox
'Art shows how we once revered nature'
Ancient human societies, one of the things that has always fascinated me is that when you go back to the upper paleolithic and when you look at some of the earliest figurative art we ever made. What you see predominantly are images of animals, certainly there are human presences there, you can see handprints and hand stencils but, but the cave paintings, in particular, are dominated by images of animals, and you know lions and bears and and mammoths and bison and or rocks all these extraordinary creatures, many of which you know i've since gone extinct, and the care and the precision with which those animals would have picked it is truly breathtaking and the artists, whoever the artists were who made them  clearly understood these animals very well and looked at them very closely and lived obviously intimately and very closely with those animals polly they were being hunted by them, partly they were hunting them, but there was a kind of  interdependence of their lives in that early period that is reflected in the art and I find that really, really fascinating.
As world leaders gather for the COP26 climate conference, these new documentaries examine humanity's relationship with nature and how our past may have answers for the future of our planet
Watch our exclusive Climate Collection documentaries on BBC Select