A Life In Ten Pictures Series 1 & 2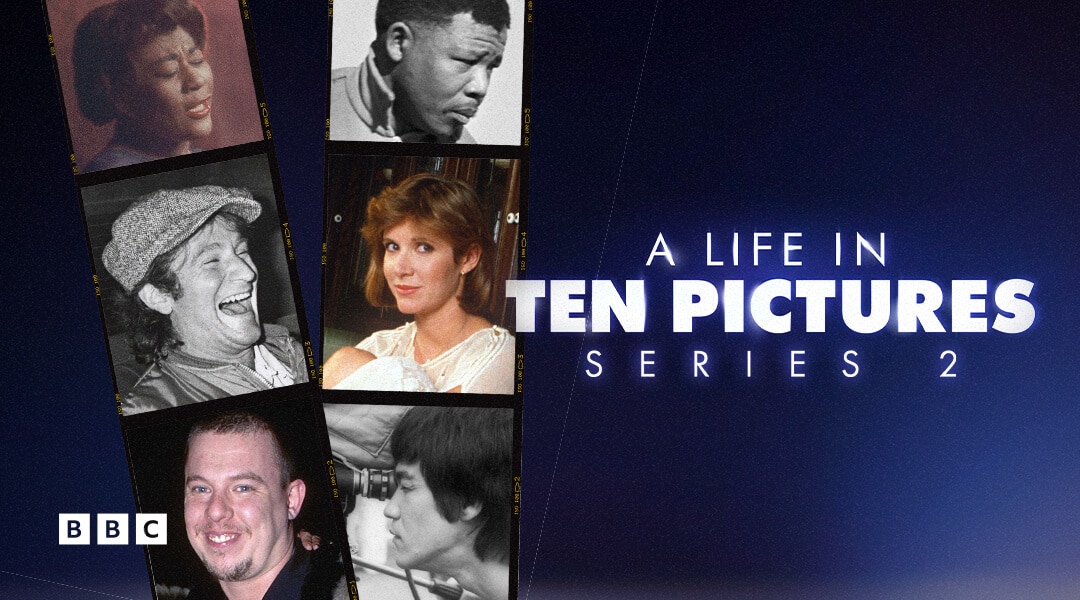 Watch A Life In Ten Pictures Seasons 1 and 2 with BBC Select. The acclaimed documentary series uses ten photographs from the lives of the world's most beloved icons to tell their stories. From iconic photos to candid and private pictures, what do these images reveal? And what secrets do they hide?
Through forensic storytelling and interviews with those that knew them best, A Life In Ten Pictures explores the lives and careers of stars including Muhammad Ali, Elizabeth Taylor, Nelson Mandela, John Lennon, Carrie Fisher and Tupac Shakur.
Watch A Life In Ten Pictures and more acclaimed documentaries on BBC Select today. Restrictions apply*.
A Life In Ten Pictures on BBC Select
Freddie Mercury
Freddie Mercury of Queen was one of the most photographed men in history. But could just a handful of photos uncover new truths about someone we think we all know? This revealing BBC arts documentary throws a unique lens onto an extraordinary life, focusing on ten defining pictures, from iconic shots to private snaps. Secrets are revealed by those who were there and those who knew Freddie best.
Tupac Shakur
The life of rapper Tupac Shakur was tragically short. He was murdered at the age of just 25. Could a handful of photos uncover new truths about this iconic hip-hop figure? In this fascinating BBC arts documentary, unknown elements of 2Pac's life are exposed via photographs, from his vulnerability to his social consciousness. Can these images show the true artist behind the 'gangsta' bravado?
Elizabeth Taylor
Known for her tumultuous love life as much as her Academy Award winning film career, Elizabeth Taylor was one of Hollywood's most famous faces. But can photographs taken at defining points in her life reveal hidden depths? In this illuminating BBC arts documentary, images from her life, some famous some candid, show a different side of Liz. Who was the real woman behind the scandal and headlines?
Muhammad Ali
Muhammad Ali was a man who refused to compromise. Known for his outspoken views, as well as his boxing prowess, he attracted controversy throughout his life. What can we learn about him from photographs taken from his burgeoning fight career to his battle with Parkinson's? This gripping BBC arts documentary uses images to examine the journey of young Cassius Clay as he blossomed into Muhammad Ali.
John Lennon
John Lennon was one of the most famous faces on the planet. His tragically early death ensured his status as a rock icon. This fascinating BBC arts documentary uses photographs from throughout his life to expose the true Lennon. The photos reveal Lennon's lifelong search to find his place in the world, his disaffection as a Beatle and his relationship with the love of his life, artist Yoko Ono.
Amy Winehouse
Amy Winehouse was an ordinary London girl with a unique voice, who, seemingly overnight became hugely successful. Her private life became a tabloid obsession and the pressure of fame and press intrusion contributed to her tragically early death. This BBC arts documentary uses ten photographs to chart the Back to Black and Rehab singer's life. Can clues to her sad fate be detected in these images?
A Life in Ten Pictures Series 2 on BBC Select
Carrie Fisher
The turbulent life of the Star Wars icon is revealed through intimate photographs.
Due to the success of Star Wars, Carrie Fisher's image was instantly recognizable around the world. But her private life was turbulent and tragic, involving substance abuse, family problems and mental health issues. A handful of iconic shots and private snaps reveal her extraordinary life. They illustrate the battles and successes of a troubled survivor who was supremely talented.
Bruce Lee
Can 10 unique images reveal anything about the hidden character of kung-fu icon Bruce Lee?
He was a cinematic icon who introduced martial arts to the western world and became a globally recognizable figure. But few people knew the real Bruce Lee. In this acclaimed documentary series, ten images, from publicity shots to private snaps, reveals the true character of this action hero who died tragically young.
Robin Williams
The complex, turbulent personality of beloved comedy great Robin Williams is revealed.
Known for his madcap antics and extraordinary comic mind, Robin Williams was a beloved comedy icon. As a stand-up and film actor, he delighted audiences around the world. But his own private life was complicated and tragic. In this insightful biography documentary, ten unique images reveal the true, turbulent character of the comedy great who died far too young.
Alexander McQueen
The inner life of the extraordinary fashion maverick is revealed through photographs.
Alexander McQueen rose from incredibly humble roots to become the doyen of the fashion world before his tragic, untimely death. Little is truly known about this publicity shy maverick. In this remarkable documentary, ten images are used to illustrate the life and personality of this unique individual. Those who knew him share their stories from his extraordinary life.
Nelson Mandela
The character and motivations of this iconic global figure are explored via photographs.
He was a political heavyweight, inspirational figure and global icon for the repressed and incarcerated. Nelson Mandela went from activist to political prisoner until finally becoming the leader of his nation and a states man on the world stage. But who was the real Nelson Mandela? This acclaimed biographical documentary attempts to explore the true nature of this extraordinary individual through ten images.
Ella Fitzgerald
Can ten unique images help to explain the personality of musical great Ella Fitzgerald?
She was the 'First Lady of Song' acclaimed for the incredible clarity of her singing voice and her extraordinary ability to make every song she sang her own. But despite her stature as a musical great, she was notoriously shy and protective of her private life. Can ten unique images, taken at various points in her career, shine anylight on the life of Ella Fitzgerald?
More documentaries you might like...
Subscribe to BBC Select for hundreds of hours of thought - provoking, award-winning and critically-acclaimed documentaries from the BBC and beyond.