George Clarke's Remarkable Renovations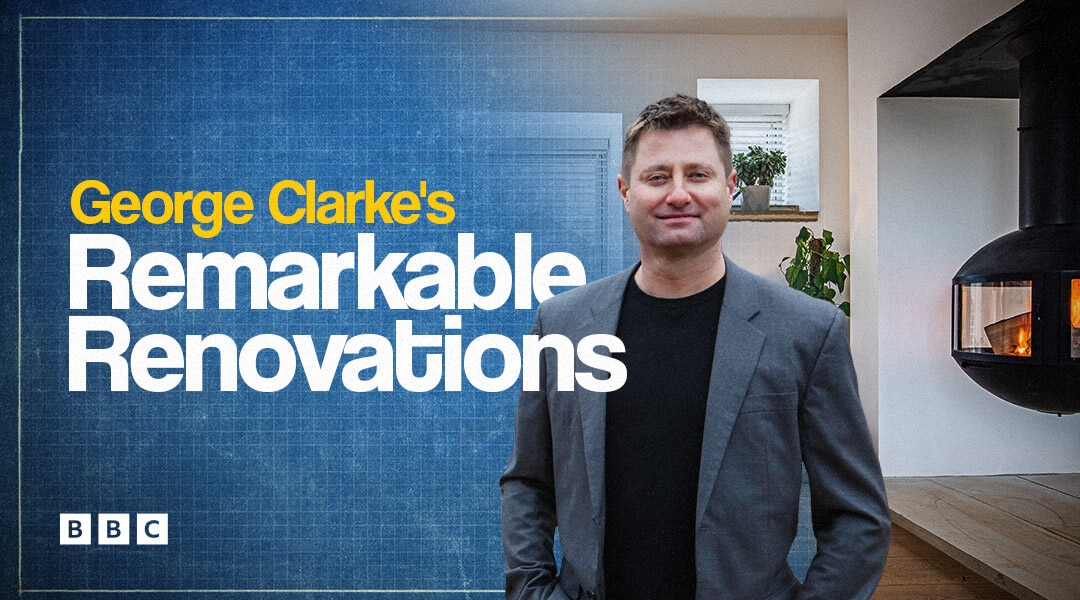 Across Britain, over 600,000 buildings lie unused and unloved. Nearly a third of them are commercial. Shops, post offices, bars and banks are closing down as towns and cities enter a new era. Architect George Clarke meets the brave people trying to breathe new life into these overlooked properties, transforming local landmarks into unique and extraordinary family homes.
Watch George Clarke's Remarkable Renovations and more acclaimed documentaries on BBC Select today. Restrictions apply*.
George Clarke's Remarkable Renovations on BBC Select
Ep 1: Victorian Bank, Cornwall
Do Richard and Sarah have enough cash to turn their local bank into a unique family home? In picturesque Cornwall, Richard and Sarah, purchased an old bank for £50,000. Now they face the challenge of converting this Victorian building into a unique family home. Ace renovator George Clarke follows their progress as they turn an imposing commercial property into a unique place to live. But do they have the budget to realize their ambitious plans?
Ep 2: Coach House, Tamworth
A couple fall in love with a 19th-century coach house. But will it love them back? Laura and Adrian have fallen in love with a derelict 19th-century coach house. They've sold their home and used up all their savings in order to buy it. But with a tight budget, they go to extremes to realize their dreams. How will they cope living in a caravan on-site with their children while the
renovation takes place? George Clarke tries to lend a hand as the project hits trouble.
Ep 3: Police Station, West Yorkshire
Rachel and Mike plan to turn an oldpolice station into a home–but can they do it justice? In beautiful Yorkshire, Rachel and Mike think it would be criminal to allow a former police station to sit empty. It comes complete with original holding cells and a 1980s reception area, but can it be transformed into a spectacular home? George Clarke follows the project as timelines stretch and budgets dwindle. Can they do this formercop shop justice?
Ep 4: Barn, Harrogate
Can Erin and Oliver turn a shoddy, smelly old barn into a stunning family home? Erin and Oliver have spent their inheritance on a barn in glorious North Yorkshire. The newlyweds' dream is to turn the 200-year-old building into a stunning country home. Unfortunately, it's dilapidated and full of dung. George Clarke follows their progress as they try to turn this smelly shack into a spectacular residence. But soon the budget and the Yorkshire weather interfere with their plans.
Ep 5: Farm, Stockport
In an emotional renovation, Gordon tries to turn an old cattle shed into his home. Three Ways Farm has been in Gordon's family since the 1950s. His late mother's dream was for Gordon to turn the 120-year-old cattle shed and milking parlor into a home for himself. George Clarke charts his progress as he tries to turn this fantasy build into a reality. But, as the money starts to run out, will the finished result be something his mother would have been proud of?
Ep 6: Stable, Humber
Can Bernie turn a set of old horse stables into the perfect place for his retirement? Bernie has fallen in love with a ramshackle stable block and plans to turn it into the perfect retirement retreat. But can he covert a building that's only ever housed horses into a livable home? George Clarke follows his progress and attempts to steer him away from some of his more eccentric ideas. But will Bernie's ambitious plans saddle him with unexpected, runaway costs?
More documentaries you might like...
Subscribe to BBC Select for hundreds of hours of thought - provoking, award-winning and critically-acclaimed documentaries from the BBC and beyond.
Architecture & design documentaries
Get inspired by some must-see documentaries on architectural, product and graphic design.