The Misadventures of Romesh Ranganathan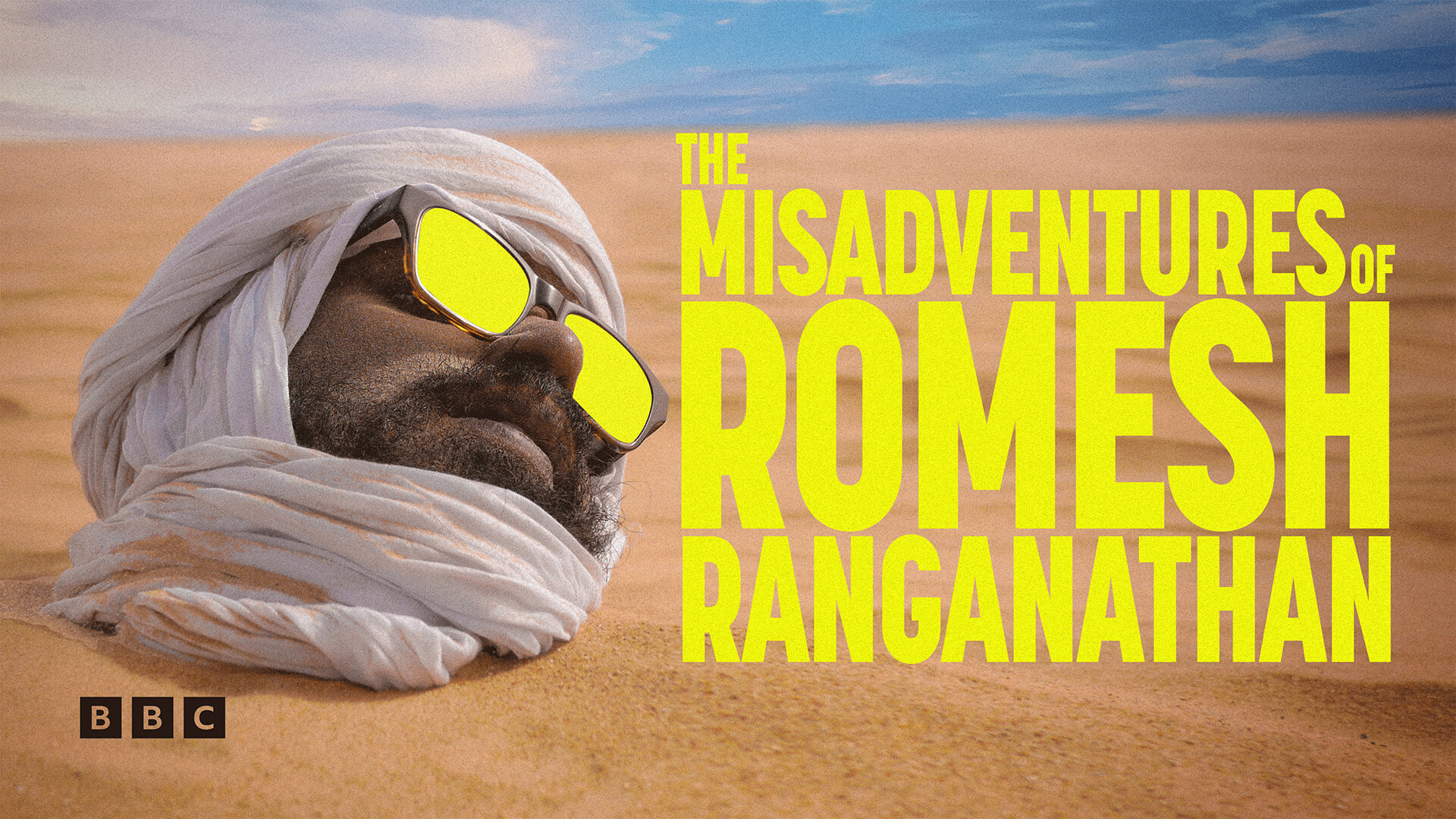 Beloved British comedian Romesh Ranganathan, everyman, comedian, and self-confessed coward is heading to some of the world's least likely tourist destinations in this quirky travel documentary. He's getting an insider's guide to find out if they're as bad as their reputations, or actually the next hot tourist hot spot. There's only one problem: Romesh can barely read a map.
Watch The Misadventures of Romesh Ranganathan and more acclaimed documentaries on BBC Select today. Restrictions apply*.
The Misadventures of Romesh Ranganathan on BBC Select
Series 1
Haiti
Romesh finds out if there is more to Haiti than the sensational headlines on the news. Is there is more to the Haiti than sensational news stories? Comedian Romesh Ranganathan gets an insider's guide to find out if h is preconceptions about the Caribbean island are right, in this unique travel documentary. Everything Romesh has ever heard about Haiti has been negative. But he soon discovers there's far more to Haiti than he could ever have realized.
Ethiopia
Romesh travels to Ethiopia. Will he find a place of unique natural beauty there? For years most of the news about Ethiopia has concerned poverty, famine, and drought. Comedian Romesh Ranganathan is heading to East Africa to discover if this reputation is justified, in this engaging travel documentary. Is Ethiopia really a food-starved dust bowl? Or will Romesh find a warm welcome, fascinating history, and place of unique natural beauty?
Albania
Why aren't we all taking vacations in beautiful Albania? Romesh tries to find out. Why has Albania remained a stubbornly unfashionable vacation destination, while many other former communist nations have leapt ahead? Comedian Romesh Ranganathan is on a mission to find out, in this quirky travel documentary. It seems as if Albania has everything from beautiful beaches to stunning mountains. Romesh takes a whistle-stop tour to discover the character of this mysterious nation.
The Arctic
Romesh thinks the Arctic is just ice, snow, more snow, and polar bears. Could he be wrong? Cold, far away and hard to spell. Comedian Romesh Ranganathan is traveling the furthest outside of his cosy comfort zone as he heads to one of the coldest and most hostile environments on earth: the Canadian Arctic. His preconceptions revolve around freezing to death or being eaten by a polar bear. But, as this charming travel documentary continues, has Romesh got it wrong about the Arctic?
Series 2
Romesh Ranganathan is back visiting the world's most overlooked tourist destinations.
As British comedian Romesh Ranganathan displayed in his previous series, he's not exactly an intrepid traveler. But he's back to visit even more curious tourist destinations in this quirky travel documentary. This time the places are further far-flung, including Mongolia, where love in in the air, Bosnia and Herzegovina, where he tries to bobsled and The Sahara where he sweats profusely.
Zimbabwe
Romesh decides to re-enact key scenes from the film Titanic on a Lake Kariba houseboat. For most of comedian Romesh Ranganathan's life, the only news coming out of Zimbabwe has been bad. Various grim stories made Zimbabwe a no-go zone in the eyes of the world. Now, in this entertaining travel documentary, Rom is exploring the country to find out if people should be holidaying there. On the way, he re-enacts the film Titanic and tries home-brewed beer made in a bathtub.
Mongolia
How do nomads meet their romantic partners? Romesh heads to Mongolia to find out. All comedian Romesh Ranganathan knows about Mongolia is that it's famously in the middle of nowhere. But he's determined to get to know it, in this entertaining travel documentary. He spends a week exploring this vast nation, seeing an enormous statue of the country's iconic Genghis Kahn, visiting an energy center in the middle of the desert, and finding out how nomadic people find love.
Bosnia and Herzegovina
Romesh discovers booze, bobsleds, and bizarre pyramids as he travels to Eastern Europe. In the mind of comedian Romesh Ranganathan, Bosnia and Herzegovina is a place inextricably linked with war. But is there more to this part of Eastern Europe than bombs and bullet holes? In this hilarious travel documentary, he's determined to find
out. Along the way, he samples too much Bosnian wine, tries a bit of bobsledding, and meets a man who says he found the world's largest pyramid.
Colombia
In Colombia, Romesh gets caffeinated, learns how to salsa, and plays an explosive game. All comedian Romesh Ranganathan knows about Colombia involves
cocaine barons. But is Colombia's reputation for drug wars justified? To find out Romesh is spending a week journeying around the country, in this enlightening travel documentary. En-route, he learns to make coffee, tries to salsa and discovers Tejo, a popular Colombian game where the entire point is to make explosions.
The Sahara
Can Romesh cope with the incredible, unrelenting heat of the Sahara Desert? (Spoiler: no). The Sahara is a vast desert that's both at once impossibly bleak and incredibly beautiful. Comedian Romesh Ranganathan arrives at the hottest time of the year with temperatures above 50 degrees Celsius. And he's not happy. In this unique travel documentary, he learns a novel way to treat a snake bite, endures sandstorms, takes a hot air balloon ride, and remains very, very hot indeed.
The Hebrides
Romesh visits some bleak but beautiful Scottish islands and tries to toss a caber. Everyone comedian Romesh Ranganathan has ever met has told him how amazing the islands of
Scotland are. But nobody he knows has ever been there. Now he's heading to the Hebrides, in this engaging travel documentary. Along the way he gets very up close and personal with a sheep, attempts to look good in a kilt and tries to find out how residents are preserving their unique local culture.
Sierra Leone
Romesh explores Sierra Leone, a country with a dark past but great hope for the future. Sierra Leone has a dark history of civil war, blood diamonds and Ebola. But comedian Romesh Ranganathan is exploring the African country to find out if we should plan our next vacations there. In this travel documentary he discovers a land of contrasts. While the specter of the past still looms, the incredible wildlife, glorious beaches and growing tourism industry herald an optimistic future.
Romania
Romesh heads east and tries to discover if there's more to Romania than Count Dracula. The thoughts that flash into Romesh Ranganathan's mind when he considers Romania revolve around communism and Count Dracula. But is this image justified? He decides to find out and explores this vast tract of Eastern Europe in this
engrossing travel documentary. He visits Vlad the Impaler's castle, drives along the dangerous Transfagarasan Highway and dances to world-famous Roma music.
More documentaries you might like...
Subscribe to BBC Select for hundreds of hours of thought - provoking, award-winning and critically-acclaimed documentaries from the BBC and beyond.
Travel documentaries
All aboard! Join a star-studded cast of travel guides as they take you to some of the most remote and fascinating corners of the globe.