HOLIDAY TREATS ON BBC SELECT
BBC Select has lots of great shows to stream this holiday season. Whether you're looking for escapism with a travel documentary or to brush up on your cookery skills, BBC Select has you covered.
Nigella Lawson gets us in the party mood – with an Italian twist, whilst Jennifer Saunders and Joanna Lumley get into the spirit of things with a look at the history of champagne. Settle down with actor Ricard E Grant and a book, or find out more about that regular British fixture at Christmas, the Royal Family. And the season also wouldn't be complete without snow and reindeers.
Start your free trial of BBC Select with any of the streaming platforms listed below. Free trial restrictions apply*.
NIGELLISSIMA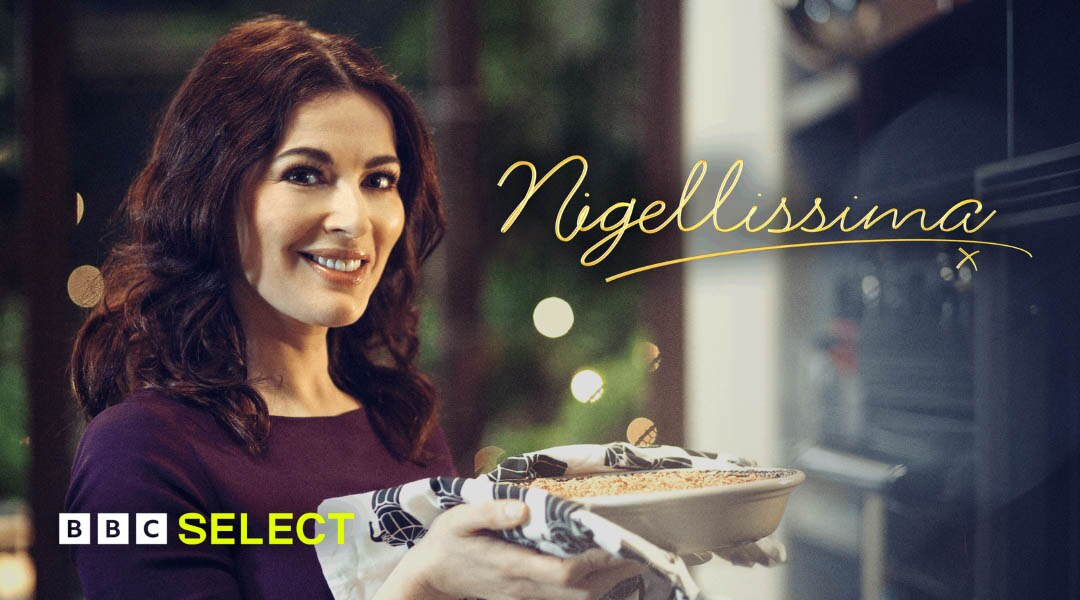 Pasta, pizza, provolone. Who doesn't love Italian cuisine? Kitchen queen Nigella Lawson certainly has a passion for it, and she wants to share it with you in this sensational BBC cookery show. In her own inimitable style, Nigella conjures up incredible recipes using easy to source fresh ingredients and simple steps to make every mouthwatering meal molto bene.
Watch Nigellissima on BBC Select today. Restrictions apply*.
JENNIFER & JOANNA: ABSOLUTELY CHAMPERS
Joanna Lumley and Jennifer Saunders are two of Britain's best-loved comedy icons. In classic sit-com Absolutely Fabulous, their alter egos loved nothing more than cracking open a bottle of bubbly. Now, Joanna and Jennifer are reuniting as BBC Select joins them for a road trip to France's Champagne region. But will Eddie and Patsy finally discover how the bubbles get into their 'Bolly', sweetie?
Watch Jennifer & Joanna: Absolutely Champers on BBC Select today. Restrictions apply*.
ELIZABETH AND PHILLIP: LOVE AND DUTY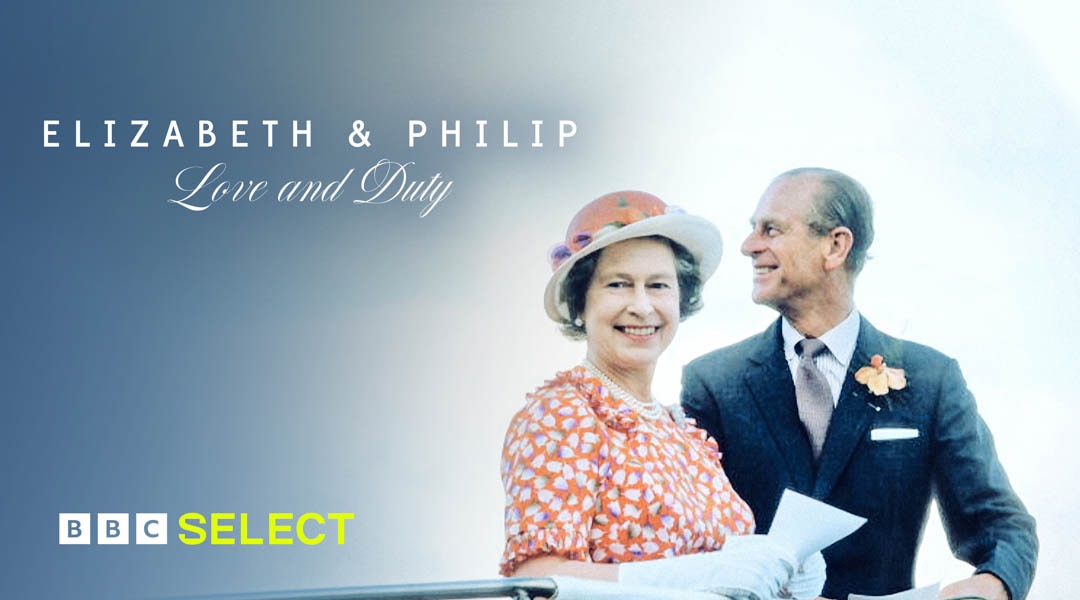 This BBC documentary offers a unique view of the life together of the Queen and Prince Philip as they celebrated their seventieth wedding anniversary in 2017. From their fairytale royal wedding onwards, the couple enjoyed the longest royal marriage in British history. They experienced moments of pride and survived challenges, often played out in public, but kept their love affair and the nation strong throughout.
Stream Elizabeth and Phillip: Love and Duty on BBC Select today. Restrictions apply*.
WRITE AROUND THE WORLD
Set sail on a fabulous literary voyage, as actor and Oscar nominee Richard E Grant guides you through this sumptuous BBC documentary . Book lover Richard visits France, Spain and Italy, following in the footsteps of authors whose work was inspired by the locations' culture and history. Can he discover the secrets of literary greats like Dickens, Hemingway and F Scott Fitzgerald?
Watch Write Around the World on BBC Select today. Restrictions apply*.
DIANA'S DECADES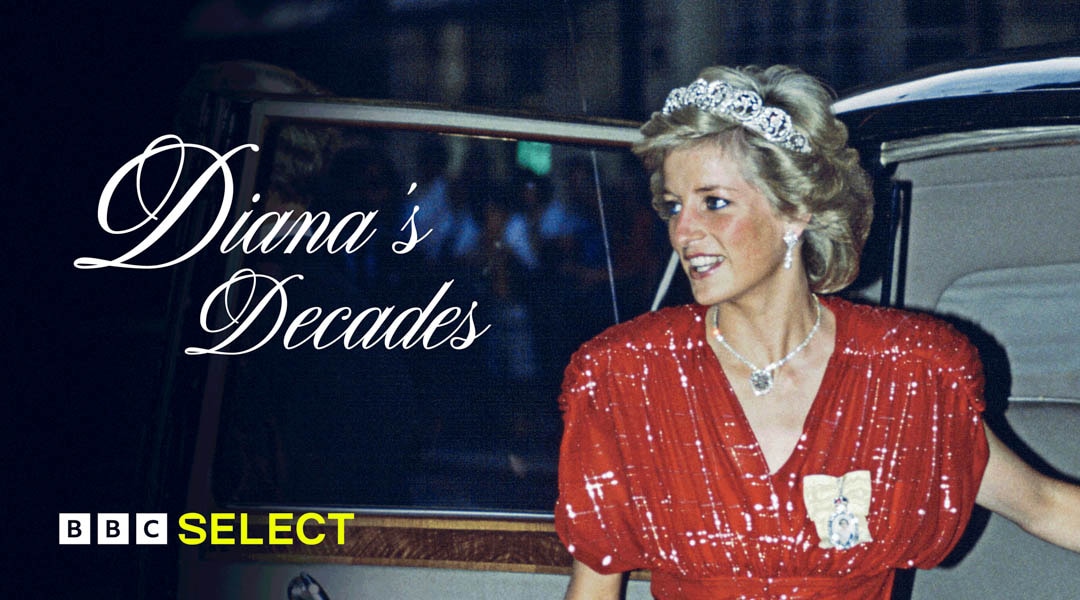 Princess Diana, the thoroughly modern princess who both captured and transformed the spirt of the times she lived in. This Diana documentary is the story of how, over three decades, she changed not just the monarchy but the press and the very nature of celebrity as she went from shy fairytale bride to global icon.
Watch Diana's Decades on BBC Select today. Restrictions apply*.
NATURE & US: A HISTORY THROUGH ART
Watch Dr James Fox investigate the relationship between the Sámi people and reindeer and how this relationship has endured through the ages. In this clip from the BBC natural history documentary, Nature and Us – A History Through Art, Dr James Fox takes a close look at a 12,000 year old piece of artwork.
Watch Nature & Us: A History Through Art on BBC Select today. Restrictions apply*.
THE SIX QUEENS OF HENRY VIII
This gripping BBC history documentary explores why King Henry VIII's reign was defined by his marriages. With coercion, manipulation and ultimately murder at play and the wives of Henry VIII selected and discarded for political and religious reasons and in a desperate attempt to sire an heir. Dan Jones and Suzannah Lipscomb ask what these turbulent relationships tell us about England's legendary king.
Watch The Six Queen's of Henry VIII on BBC Select today. Restrictions apply*.
EXTRAORDINARY PLACES TO EAT
Master Maitre D' and food lover Fred Sirieux is back for a new season and he's still determined to convince the planet's finest chefs to reveal their favorite secret eateries. The most impressive culinary professionals tell you where they lunch, what they order and… guess what? You're all invited! You'll witness lavish feasts and mouth watering treats at these hidden gems. Delicious!
Watch Extraordinary Places to Eat on BBC Select today. Restrictions apply*.
THE LAST IGLOO
Inuit hunter Julius Nielsen chooses to navigate the frozen North by dog sled, over using a snowmobile, emphasizing that his snow dogs offer much more than a form of transportation for him. As much as they serve as loveable companions, they also warn him of imminent dangers.
Watch The Last Igloo on BBC Select today. Restrictions apply*.